Welcome to YA Scavenger Hunt! This bi-annual event was first organized by author Colleen Houck as a way to give readers a chance to gain access to exclusive bonus material from their favorite authors…and a chance to win some awesome prizes! At this hunt, you not only get access to exclusive content from each author, you also get a clue for the hunt. Add up the clues, and you can enter for our prize–one lucky winner will receive one book from each author on the hunt in my team! But play fast: this contest (and all the exclusive bonus material) will only be online for 72 hours!
Go to the YA Scavenger Hunt page to find out all about the hunt. There are SIX contests going on simultaneously, and you can enter one or all! I am a part of the BLUE TEAM–but there is also a red team, a gold team, a green team, a pink team, and a purple team for a chance to win a whole different set of books!
If you'd like to find out more about the hunt, see links to all the authors participating, and see the full list of prizes up for grabs, go to the YA Scavenger Hunt page.
SCAVENGER HUNT PUZZLE
Directions:
Below, you'll notice that I've listed my favorite number. (Hint! It's in
blue
.) Collect the favorite numbers of all the authors on the
blue team
, and then add them up (don't worry, you can use a calculator!).

Rules:
Open internationally, anyone below the age of 18 should have a parent or guardian's permission to enter. To be eligible for the grand prize, you must submit the completed entry form by
Sunday, April 8th
, at noon Pacific Time. Entries sent without the correct number or without contact information will not be considered.
 Today, I am hosting
Lea Nolan
on my website for the YA Scavenger Hunt!
Lea Nolan is a USA Today bestselling author who writes books for young adults featuring bright heroines, crazy-hot heroes, diabolical plot twists, plus a dose of magic, a draft of romance, and a sprinkle of history. She also pens smart, witty contemporary stories for adults filled with head-swooning, heart-throbbing, sweep-you-off your feet romance. Born and raised on Long Island, New York, she loves the water far too much to live inland. With her heroically supportive husband and three clever children, she resides in Maryland where she picks crabs and bakes ugly birthday cakes.
Find out more information about Lea
here
!
My YA fantasy series, The Hoodoo Apprentice features three teens in the South Carolina Lowcountry who use Gullah hoodoo magic to battle centuries-old curses, hideous monsters that stop at nothing to consume their prey, and other assorted bad guys intent on stealing the heroine, Emma Guthrie's, magical powers.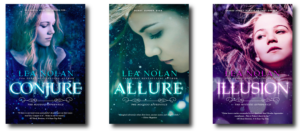 Hoodoo magic is an African American folk healing and magical art, not to be confused with voodoo, which is a religion. Hoodoo originated among enslaved Africans in the South Carolina and Georgia Lowcountry and is largely based on African traditions, but has also been influenced by Native American, European, and other magic folkways.
In CONJURE, the first installment in the series, Emma Guthrie uses many hoodoo spells to protect her twin brother Jack, and their best friend (and Emma's crush), Cooper Beaumont. She's also called upon to break some of the jinxes laid by her enemies. To give you an idea of the kind of hoodoo charms Emma confronts, I thought I'd share a few with you today. These come directly from one of my favorite spell books, Encyclopedia of 5,000 Spells by Judika Illes.
Candle Spell #6 for Fast Cash
Obtain a black and green double action candle and carve whatever you wish to lose (debt, poverty) on the black side. Carve what you need to manifest on the green side. In both cases, be as specific as possible. Trim the bottom of the candle exposing the wick so that both ends may be lit simultaneously. Impale the candle horizontally on a spiked candlestick and burn both ends.
Black and White Protection Powder
Grind up sea salt and black peppercorns and blend them together. Sprinkle the powder around your property for strong protection.
Graveyard Dirt Spell for Success
Collect nine handfuls of graveyard dirt and mix them with sulfur, salt, and pepper. Sprinkle a little bit on charcoal and burn it. Visualize the success you would like to achieve. Repeat whenever you need to be successful in any endeavor, the powder will last a long time.
I hope you enjoyed this introduction to hoodoo magic. Though these spells seem simple, may people believe in their power and rely on them to offer protection or grant their most fervent desires. For more information about hoodoo magic and more examples of spells, I highly recommend that you check out the Lucky Mojo Curio Company's website at www.luckymojo.com It's owner, catherine yronwode, has painstakingly recorded the history of hoodoo, collected oral histories of spells, and is a well respected manufacturer of authentic charms.
So what do you think? If you were headed to Vegas, would you carry a Gambler's Hand into the casino for extra luck? Or would you prefer to go it alone and hope Lady Luck joins your on her own?
~Lea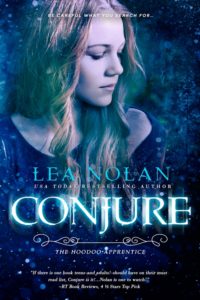 CONJURE
Be careful what you search for…
Emma Guthrie expects this summer to be like any other in the South Carolina Lowcountry–hot and steamy with plenty of beach time alongside her best friend and secret crush, Cooper Beaumont, and Emma's ever-present twin brother, Jack. But then a mysterious eighteenth-century message in a bottle surfaces, revealing a hidden pirate bounty. Lured by the adventure, the trio discovers the treasure and unwittingly unleashes an ancient Gullah curse that attacks Jack with the wicked flesh-eating Creep and promises to steal Cooper's soul on his approaching sixteenth birthday.
But when a strange girl bent on revenge appears, demon dogs become a threat, and Jack turns into a walking skeleton; Emma has no choice but to learn hoodoo magic to undo the hex, all before the last days of summer–and her friends–are lost forever.
Thanks so much for the spells, Lea!
Readers
, don't forget to enter the contest for a chance to win a ton of books by me,
Melissa Chambers
, and more! To enter, you need to know that my favorite number is
12
.
Add up all the favorite numbers of the authors on the
blue team
and you'll have all the secret code to enter for the grand prize!
CONTINUE THE HUNT!
To keep going on your quest for the hunt, you need to check out the next author, Lori M. Lee! 
lorimlee.com
But before you go…
GIVEAWAY TIME!
If you aren't already signed up for my newsletter, click here to do that now for a chance to win a $10 Amazon Gift Card!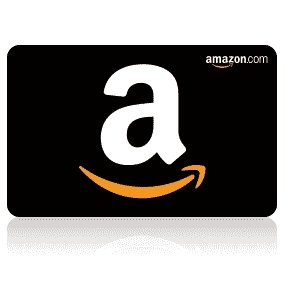 (Winner will be determined and contacted on 4/9/18. If winner fails to respond within 48 hours of notification, a new winner will be chosen. Click here for a list of sweepstakes rules.)