Will one incredible night be enough?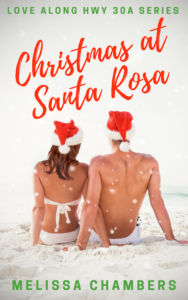 Felicity Haley has been trying to extract Scott Stover from her mind for a year now. Both coming off of rejection, they found comfort in one another. But they were on vacation, each headed back to their separate lives afterward. Felicity is no one's second choice, and she couldn't be sure he treasured their night together as much as she did, so she ghosted him.
Now, she finds herself in the same beach town with him once again. But she can't surrender to her desires. She must protect her heart from inevitably crumbling after the post-Christmas vacation bliss dies down and they go back to their daily lives. Felicity must protect her heart no matter how much the Christmas spirit tells her to collect this gift.
Scott hasn't been able to shake the memory of the amazing night he had with Felicity. When his entire family rents a house in Santa Rosa for the month of December and he finds out Felicity is there as well, it feels like a Christmas miracle. His life is in Nashville while hers is permanently in Santa Rosa now. But even so, he's got a second chance to win her heart, and he won't let her slip out of his arms again.
Christmas in Santa Rosa is book seven in the Love Along Highway 30A series, which features beautiful beach communities, a circle of unique and amazing friends, and romances that will have you cheering on the couples and fanning yourself from the heat. All books are standalone and can be enjoyed in or out of order.
Chapter One
"I want white twinkly lights everywhere," the client said, peering around her living room.
Felicity took notes. "Got it."
The client pointed to the staircase. "And greenery wrapped around the banister. Can you thread lights into the slats as well? I want a lot of lights."
Felicity smiled at the client. "Absolutely. This place will be lit up like Rockefeller Center."
The woman let the tension in her shoulders drop. "This is a very important Christmas. I want it to be perfect."
Raven, owner of the business Felicity was helping out, put her hand on the woman's forearm. "We completely understand. We want this party to be magical."
"Thank you. And you won't come back for the decorations till the new year, correct?"
Felicity and Raven had been planning to reuse decorations for other parties, but they needed to give the client what she wanted. Felicity waited for Raven to respond. This was Raven's business, after all. Felicity was just helping. She was only in Santa Rosa temporarily.
Raven swallowed hard and plastered on a smile. "Absolutely."
"For an additional fee," Felicity tossed in.
"Of course," the client said.
Raven looked relieved. Raven was a wonderful chef and an even better friend, but she was young and not aggressive enough. Felicity would get her there.
"Shall we talk about food?" Raven asked.
"Yes, how about we sit down at the kitchen table for that? I'll get us some coffee," the client said.
"Fantastic," Raven said.
"I'll just do some measurements out here and then head out," Felicity said. "You've got my number if you have any questions at all about the decor."
"Thank you." The woman smiled. "I think I'm in good hands."
"I assure you that you are," Felicity said, and then gave Raven an acknowledging smile.
As they walked off, Felicity glanced around the mostly white, open living room, imagining this beach home decked out with Christmas magic. Felicity wanted her heart to warm at the idea, but Christmas at her house had always been touch and go…par for the course with her family. Some Christmases were big and gaudy and others were nonexistent. It all depended on her father's mood. But none of that mattered. This wasn't for her. This was for the client.
She whipped out her measuring tape and got to work. She was typing the last of the measurements into her phone when a door opened upstairs, and she heard footsteps coming down the stairwell. She looked up to greet the person and let them know why she was in their home, but her throat went dry when she saw who it was.
"Hey, Felicity," came the low drawl of Scott Stover, the man she'd spent one unbelievable weekend with a year ago.
She'd known he was in town. She'd seen him at Ashe's barbecue last week, right before she'd bolted out of there without speaking to him. She'd known she would have to confront him at some point, but she certainly didn't expect to bump into him at a client's home.
She looked down, gathering her thoughts, and then faced him. "This is your house?"
"It's our temporary house."
She nodded, replaying the story Sebastian had given her that night at Ashe's house. He'd bumped into Scott earlier that week. Apparently, Scott's mother had died this past year, and his whole family was in Santa Rosa for their first Christmas without her. "I heard. Your family's here for the Christmas season?"
"That's right," he said, a grin forming on his face.
"Sebastian offered up the info," she was quick to say, realizing he probably thought she was asking about him, "the other night when you showed up at Ashe's house."
"Yeah, about that…" He lifted an eyebrow.
Felicity let out a huff of air and touched her fingertips to her forehead. She stood up tall, looking him in the eye. "I had to go."
"The second you saw me show up?"
"I didn't leave because of you."
He squinted at her. "Are you sure about that? Because the timing seemed pretty spot on."
Felicity sighed. "I'm sorry about your mother. I should've stayed to say that, at least."
He turned contrite. "Thanks. I appreciate that."
"Had she been sick for long?"
"Yeah, for several years. In the end, her passing was a blessing."
Felicity's heart pinged. She pretty much lived for her mother's well-being. She'd stayed in Indy her whole life up until just a few weeks ago to be there for her mother. But once her mother's behavior proved more destructive than Felicity ever imagined, she had to finally get away for own sanity's sake. But she still had to go back. She'd told her mother she'd return by Christmas Day.
"I can't imagine losing my mother. I'm so sorry. Even if it was a blessing in the end. It couldn't have been easy."
He shrugged and looked around the room. "That's why we're all here, together, for the holiday season."
Felicity glanced at the door to the kitchen. "So, Kim is your aunt?"
"Yep. I heard from Shayla that you're working for a catering and event planning company. My aunt seemed to need the help."
Felicity nodded, realizing Shayla had connected Scott with Raven, bypassing her. Shayla knew better than to connect Scott directly with Felicity. Shayla had only asked Felicity a dozen times if she had talked with Scott since that weekend they'd hooked up. She was sure that was Shayla's guilt…her wanting to see Scott happy since she had rejected him that weekend they'd come down for Maya and Bo's wedding. It was a sweet thought, but Felicity was nobody's sloppy seconds. "I'm sure Raven appreciates the business. She's just starting out."
"Shayla said she'd gone to a get together that Raven had catered and the food was really good."
"No doubt. You've chosen wisely." Felicity re-shouldered her purse and made a move toward the door, but Scott stepped in front of her. "You know, after that weekend we spent together, I texted you a couple of times and left you a voicemail."
Felicity closed her eyes, and then opened them, knowing it was time to face the music. "I'm sorry."
"I thought we had a good time."
She shrugged. "We did. I did."
"If you were going to ghost me, why did you give me your phone number?"
She let out an exhaustive sigh. "You know how these things go. It feels good at the time and then you get away and you sober up and you realize nothing's going to come of it."
He lowered his chin. "I know we had some drinks the night of the bachelor and bachelorette party, but we were both stone cold sober the next morning in the shower…and again on the bathroom sink?" He raised his eyebrows, looking at her for confirmation.
Felicity felt the heat rushing to her neck, which was strange, because she never got embarrassed, ever. She pursed her lips and looked him in the eye, which was tougher to do than it should have been. "It was easier to cut ties. I tried the whole long-distance thing with Chase. We both know how that turned out."
"So you have one bad relationship and all the rest of the guys you date have to suffer for it?"
"I wouldn't call what we did dating."
"Yeah, it was a lot hotter than that." He grinned, heating her core.
Felicity glanced at the kitchen door and then down the hallway. "Is anyone else home? Who all is staying here, anyway?"
"There's a bunch of us, but nobody's home except me and my aunt. They're all deep-sea fishing. I had to work."
"Are you still working at the same place?"
"You're avoiding the subject."
"What do you want me to say?"
"I want you to say yes…to a date."
Felicity huffed a laugh. "A date?"
"Why is that such a foreign concept?"
She tossed up her hands. "What is this date going to lead to, Scott? You're only here for a few more weeks. I'm only here till Christmas. And then you'll be back in Nashville and I'll be in Indy."
He stepped toward her, taking her forearm in his hand and brushing his thumb over it, making her stomach sizzle. "I walked into that weekend ready to lay it on the line for one woman, and I walked out completely intrigued by another. I've never had a woman make me feel the way you did."
She cocked her head to the side, needing to find her bravado. "A good blow job will do that."
He shook his head. "Not that. I'm talking about at the wedding, when we danced cheek to cheek…when I put my hand on the small of your back…when you clutched my shoulders. I'm talking about at the airport when you held me so tightly I thought you were gonna break a rib, and then you pulled away and had tears in your eyes."
Felicity swallowed hard, the emotions from that weekend flooding back. A man had not gotten to her like that in a long time. Maybe ever. But she was not going to give in to some one-night-stand from a year ago, no matter how incredible he smelled. His scent took her right back to that dance floor, and those bedsheets.
She put her hand on her hip. "I had allergies."
He gave her his sneaky smile where only one side of his mouth went up with those two asymmetrical dimples softening his face. Between his muscled-up arms and his almost military haircut, he had her tingling all over with his masculinity. A scar crossed his right cheekbone, and she'd wanted desperately to trace it with her finger when she'd laid in bed with him, but they hadn't been able to reach that level of familiarity in their short weekend together. She couldn't understand why Shayla had passed him up. Of course, Felicity had done the same, but she had reasons.
The front door opened, and a pack of dark-haired men stumbled in, carrying bags of groceries, coolers, and one holding what could only be a gigantic fish wrapped in white paper.
They were all talking over one another and seemed to think nothing of her standing in their living room. One of them stopped. "Fifteen-pounder, man."
"Nice," Scott said.
The guy looked at Felicity and held out a hand. "I'm number three. Lake."
Felicity was rarely taken off guard, but this man was so full of energy and charm, she stumbled a second. "Number three?"
"In the lineup. Third born." He looked her up and down. "What's your name, gorgeous?" he asked, still holding her hand.
"I'm Felicity."
He smiled even bigger somehow. "It's nice to meet you, Felicity. If you ever get sick of this asshole come find me."
He walked off toward the kitchen along with the others.
She lifted an eyebrow. "Brothers?"
"Cousins."
"That makes more sense. They all look alike, but you just kind of look like them."
He shrugged in concession.
"How many of them are there?" she asked Scott.
"Five."
"Do you have any siblings?"
"Just me. My mom wanted a big family like my aunt's, but apparently having me was a struggle. My mom begged for more kids, all the time, but it never happened."
She looked him up and down, feeling a kindred spirit with him, knowing the struggles that came with having no siblings. People only ever wanted to talk about only children as being selfish and spoiled. She knew another side to that story. "I didn't know you were an only child. I'm one too."
He clucked his tongue against his cheek. "See, these are the kinds of things you can learn about me if you agree to have a date with me. Or, you could stay for dinner. Looks like there's plenty of fish."
That's for damn sure, she thought, considering the gorgeous men who'd just strutted past her. She contemplated it for a moment before making her way toward the door. "Enjoy your evening. It looks like it's going to be an eventful one."
"Usually is with this crew."
She stopped and studied him. He was an only child, but through his cousins, he had what she had always dreamed of—a big, loud family full of love and fun. She could stay, get a glimpse into a different life. But she wasn't ready to deal with the kind of hurt she would have to endure when she had to leave it when this was over.
"Have a good night, Scott."
He just stood there with that crooked smile, as if he had one up on her, leaning against the doorframe as she walked to her car.