He's New Orleans' biggest player. She just needs to control the game.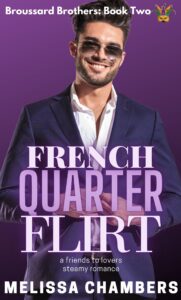 When Garrett Broussard is caught dipping Savannah Sanderson on the dancefloor of the Mardi Gras ball, they're mistaken for a romantic couple and asked to attend a formal dinner that could boost Savannah's career. Garrett capitalizes on the opportunity, trading a date for a date—he'll attend the formal dinner if she'll help him get his boss, who wants to set Garrett up with his daughter, off his back.
It's a weekend trip, and they'll have to share a room to make the fake relationship seem legit. He can handle it. He'll just sweep the little crush he's had on her all these years under the rug and pretend she's not hot at all walking around in that oversized Saints T-shirt and no shorts.
Savannah is at her wits' end with Garrett Broussard. He shamelessly flirts with her but never puts his money where his mouth is. She highly suspects that if she took him up on his empty advances, he'd cower like a shaking Chihuahua. She has half a mind to put him to the test on this upcoming weekend trip, but she knows better than to play with fire when it comes to a Broussard brother. She just has to make it through the weekend without letting New Orleans' biggest flirt trample her heart.
Chapter One:
"What was I thinking when I put on these heels tonight?" Savannah lifted her shoe to view the sky-high heel. In reality, it was probably three inches, but it might as well have been ten.
"I think you saw yourself in the mirror and knew you looked fabulous in them," Calliope said.
Savannah rolled her eyes. "Fabulous if I can stay upright." She surveyed the room of New Orleans society members, the men dressed in tuxes with white ties and tails and the women in ball gowns and white gloves, all interspersed with cast members of the krewe throwing this shindig dressed with huge feather headpieces and other elaborate costumes fit for a king's court.
"It's been a few years since I've been to a Mardi Gras Ball," Calliope said, glancing around. "I guess they don't change much no matter how elaborate the decorations get."
"I wouldn't know. I haven't been to nearly as many of these as you have," Savannah said.
"You grew up with all this just like I did, didn't you?"
"I was born in Memphis, then my mom moved us here when I was three, then off to Tampa soon after that. We didn't come back till my sophomore year in high school."
"Does that mean you never were one of these debutants waiting with bated breath to be given a call-out card so you could dance the night away with the perfect young gentleman?" Calliope asked.
"My mom had zero interest in me being a deb."
"She must be very different from your Aunt Eleanor."
"For sure. Peyton's mom ate all this stuff up." Savannah waved her off. "Besides, I was too old to get started in all that by the time I got back. It wouldn't have been for me, anyway."
Calliope took a sip of her wine, glancing around the room. "I know we're supposed to be networking. I'm trying to find the gumption."
"I'm trying to find the bravado. It'd be easier if my girdle wasn't climbing up my butt."
"You wear a girdle?"
"I was cursed with a potbelly. It's hard enough finding a dress long enough, much less one that hides my belly," Savannah said.
"Hey, there's Jennifer Pegram. She's got this line of handmade figurines I've been wanting to carry in the store. Do you mind if I go talk to her?"
"No, go ahead."
Calliope squeezed her arm in thanks and then headed off.
Savannah let out a sigh as she glanced around the vividly decorated room, tastefully but boldly adorned in purples, greens, and golds. She nodded at a man passing by dressed as a jester.
It had been Savannah's idea to get the invite to this ball so that she could socialize with tipsy people with plenty of money and connections. Savannah's new social marketing business was doing okay, but it wasn't totally paying the bills like it needed to. Now that she was here, she was finding it difficult to make the move to join one of these conversations, the exact thing she had just encouraged Calliope to do.
She was about to make her way toward the hors d'oeuvres when a man's tall, athletic frame emerged from the sea of bodies on the dance floor. She swallowed hard, her body sizzling as it always did for Garrett Broussard.
His body was one of a runner's—tall and thin, lanky but muscular. He strutted toward her, as if in slow motion, his wicked grin forming as he ran his fingertips over his curly brown hair. He shook his head at her as if she had done something naughty, sending a shot of heat through her core.
"The beautiful Savannah Sanderson. I wasn't expecting to see you here tonight." She'd known him her whole life, but every time she heard his buttery smooth voice, her body did things to her that were out of her control.
"Nor was I you. Since when do you come to society balls? Did you not have enough of these when you were a gentlemanly young man thrilling all the young debs?"
He glanced around looking bored. "They're not really my thing, but I was asked on a date and I never turn down a lady."
Why did this man incense her with jealousy when they'd never even been on a date? She clucked her tongue against her cheek. "I know that's right."
He moved over to stand beside her, surveying the dance floor with her. "Get your mind out of the gutter, Sanderson. It's not always about sex."
She laughed, almost choking on the sip of wine she'd just taken. "Oh, it's not? When's the last time you had it?"
"That's not a very ladylike thing to ask."
"We might be in high society right now, but you forget I've known you since we were teenagers."
"We've known each other much longer than that," he said.
"We couldn't have met until I was in high school."
"See, that's where you're wrong. I'll never forget the first time I met you."
She smiled, unable to hold back. "Oh yeah? Where was that?"
"The Boudreaux family backyard. You were a little toddler out there in a swim pullup. I was the mysterious older man at the ripe old age of six."
She squinted at him. "You're making this up."
He held up a hand. "God's honest truth. I remember you."
She snickered, shaking her head, returning her attention to the dance floor.
A new song started, and he stepped around in front of her, holding out his hand. "May I have this dance?"
As much as she wanted to dance with him, there was no way she could do it in those shoes. "Thank you, but I'm at a bit of a disadvantage tonight." She held onto his substantial shoulder while she lifted up one of her feet. "These things are lethal."
He looked down at her shoe and then back up at her, lifting one eyebrow. "Is that really the only reason you won't dance with me?"
"It really is. I'm not trying to be contrary. Besides, this is a waltz. It's like the most dancie of dances. Even more tricky."
He put his hands on his hips, letting out a sigh. "This is insulting, Savannah. Do you really think I would let you fall out there?"
"I don't mean to insult your manhood, seriously. I'm a big girl and these are some really tall heels. Admittedly, not my best decision of the day."
He pinched the bridge of his nose. "You really think I can't handle you?"
She tried to hold back her grin, but it was impossible. "I think you are a perfectly adequate dancer, Garrett Broussard, but I know I'm not the most graceful woman you've ever swung around a dance floor. And I'm likely the biggest. So, I'm not really sure you know what you're getting into."
He bore his gaze into her eyes. "Do you trust me?"
"Most definitely not."
He narrowed his gaze. "Will you trust me just this once?"
She gave him a curious look. "Are you serious?"
"I'm dead serious. I won't let you fall."
Savannah considered him, the idea of his capable arms manhandling her and keeping her safe too tempting to pass up. She shrugged. "All right, let's do this."