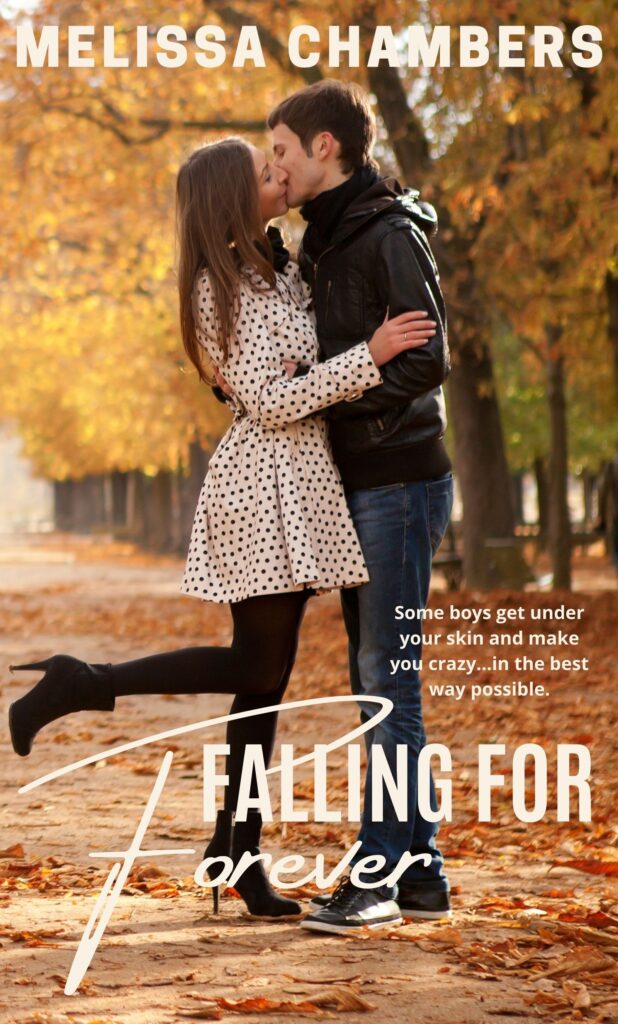 Some boys get under your skin in the worst way. Others…in the best way.
The second Jenna Quigley turns eighteen, she's headed to L.A. to extend the timer on her fifteen minutes of fame. Too bad her dad made her promise to graduate high school first. Silver lining? Her new school has a serious talent competition with a $25,000 cash prize, which would go a long way in L.A. Jenna's got plenty of talent—she didn't almost win America's Newest Sensation for nothing. But it'll take everything she's got to bring down the music nerd with a stick up his butt…no matter how cute he is in those glasses.
Miles Cleveland needs to win that talent contest. When some hot girl stole his audition spot on America's Newest Sensation, his chance to study music flounced off to New York with her. Now, not only can he win enough money to pay for his education, he can get revenge on that very same girl. He can't start to question his plan, though…no matter how deep Jenna buries into his heart.
Click HERE to find at your favorite retailer.
5 stars: "I'm in love with this series. Another 5-star worthy book! You can read this story as a standalone. However, this author's writing style is so addictive you won't want to miss The Summer Before Forever." -Danielle Duncan, Chapters Through Life
4 stars: "I loved that we got little snippets of Chloe and Landon throughout this book. I hope that Chambers will continue on with this series. I would love to catch up with Jenna and Miles six months or a year into the future to see how they're doing." -Sara Newhouse, Bibliophagist
5 stars: "Wicked book hangover!!! I read this in ONE night. I couldn't put it down and totally ignored everything else I had to do so I could finish the book. Melissa Chambers outdid herself with this story." -Victoria Bunce, Educator
4 stars: "I also loved the parent elements on both Jenna and Miles side. The impact on them made the story even more complicated. I can't wait to read the first book in this series. I really hope we see these characters again." -Laura Mauro, Bookish Things and More
5 stars: "To be honest, I wasn't sure I'd like Jenna after reading her in Chloe's book, but I was pleasantly surprised, finding her a solid character. Miles had that brooding, swoon-worthy leading man vibe that has girls of all ages falling hard. Together, they created a lovely read, but the side characters added a whole new dimension." -Erica Chilson, Wicked Reads
4 stars: "I found this book to be full of love, hope, friendships, ups and downs. Chambers creates a world that is easy to get lost in and after reading her book you will feel as if you are friends with the characters." -P. Loveday, Lovely Loveday Blog
Chapter One
Jenna
In two days, I'm L.A. bound. I can't believe it's finally happening. I've got money in my pocket, a nonrefundable one-way ticket, and a reservation at an extended stay in Hollywood. Hollywood! Insanity.
My dad is freaking out. He's been wearing a hole in our crappy carpet as he paces back and forth each day, rubbing his beard, as I imagine he tries to figure a way out of my leaving. If he didn't want this to happen, he never should have let me audition for America's Newest Sensation last year. In his defense, I don't think he believed I'd get past the first round, much less make it to New York and place eighth in the whole thing.
I'm not letting go of these fifteen minutes of fame just yet. I've got to act now, or I'll lose all my momentum. This past summer, working karaoke deejay gigs not only showed me I'm not ready to give up on my dream just yet, but they paid well, giving me enough to get started in L.A. For the first time in my life, I had the sense to actually save money and not blow it on a fistful of magic beans or a two-thousand-dollar crystal encrusted Hello Kitty phone case—which, in full disclosure, I actually did consider.
I kept my wits about me, and now the only thing that holds me back is my jailbait status. But in two short days, that all changes. I'll be eighteen—a fully formed adult with money and the freedom to fly across the country and claim my status as the world's most fabulous recording artist since Madonna sported black lace gloves with rubber bracelets and mugged for the camera claiming re-virginization.
I float down the hallway on a pre-birthday high and collapse on the couch next to my dad. I curl up to him and get a glimpse of what he's looking at on his tablet.
I use his forearm to shove myself off him. "Dad, give it up. I didn't get in."
He peers at me above his reading glasses. "You're still on the waiting list."
"School's been in session a month now. It's time to wave the white flag," I say.
He points at me. "I've got two days. You promised."
I roll my eyes and snort for effect. He's trying to get me into this creative arts magnet school in Nashville. I promised him if I got in, I would finish my senior year there and hold L.A. for next summer. Spoiler alert! I'm not getting in.
We don't even live in Nashville anymore. We're in Cliff Ridge, which is like an hour and a half away. Well, we have this crappy little efficiency apartment in the city, but it's for my parents. They're bluegrass musicians, and they sometimes have late-night gigs in the city, so they stay there when they're too tired to drive back. But it's not like it's our home or anything.
My dad runs his hand through his blondish hair, which is still really thick for a guy his age. I get my hair from my dad, thick and dirty blond. Except mine's long and wild and sort of out of control. I tried going platinum blond last month for my L.A. debut, but I hated it. My colorist, a.k.a. Mom, was able to put it back like it was and even incorporate some auburn and brown lowlights. I don't need to look like every other bleach blond starlet out there anyway.
"My sources tell me there's about to be an opening," he says.
I frown. "What sources?"
"I know a guy who knows a guy."
Mom glances up from her laptop at the kitchen table with a doubtful expression.
I grip his arm. "Dad, don't get your hopes up, seriously. Even if there's an opening, I'm not getting in. As of the end of my junior year, I'm at a 2.4 GPA. That's not magnet school material."
"This is a different kind of magnet school. You're not penalized for poor grades. Your talent covers for your academics."
I toss up my hands. "That's exactly why I belong in L.A."
He sets down the tablet. "Everyone, get dressed. We're going to Nashville for the night."
I drop my head back on the couch with dramatic flair. Mom continues her scrolling as if she doesn't hear him.
He points to my bedroom. "Just go get ready. We have two nights left with you being a minor, which means you've got to do what I say for two more nights."
Aww, bless him. "All right. But I'm picking the restaurant."
"Invite Chloe if you want," he says, an attempt at sweetening the pot.
I sigh at the mention of my best friend. She and my dad are the only things in the world giving me pause about leaving for L.A. I have no idea how I'm going to function without the two of them. But she's got Landon now. He's at Georgia Tech, which is only a couple of hours from us. He's a wide receiver, and he's starting to get really good. She and her mom have been traveling down there pretty much every home game weekend.
"We've already said our good-byes," I reply. "She's in Atlanta this weekend. Landon's starting."
"That's right," Dad says, standing up. "Anyone else you want to ask?"
I shake my head because there's nobody. I'm not fantastic at developing friendships. I know a lot of people who I consider friends, but when I drill down on one to invite with me tonight or any other night, I come up empty. I can go up to guys and form friendships or whatever all day long. But outside of Chloe, I've always struggled to nab good girlfriends.
It's not like I've had any sort of female role model to show me otherwise. My mom has no girlfriends. There's her cousin, who we moved here for, and that's it. Mom is a bookworm, a serious type who participates in online discussions of philosophy. Let's just say she's not pulling freshly baked cookies and pies out of the oven on a regular basis. She sort of glazed over my whole America's Newest Sensation stint, but my dad stayed in New York with me the whole time. He was in that audience for every performance.
She's actually supportive of my L.A. move. She did the same thing. On her eighteenth birthday, she left home for New York. She reads all the time but has little use for traditional school. She says there's no better educator than real life experiences.
I follow behind my dad down the hall and pat him on the back with love as I separate into my bedroom to get dressed. Leaving my dad is going to torture me. I get along with my mom, but it's always been my dad and me.
I would love to say I've gotten over those three years she spent "on tour," starting when I was six years old, but the truth is I'll never be able to forgive her for it. I'll never forget the "tour" ending conveniently on my tenth birthday…the tears rolling down my dad's face when she came to the door…the hushed conversation, and then the presentation of her to me. "Look, sweetie, your mom made it back for your birthday, just in time."
I never claimed to be the smartest girl in the room, but even a ten-year-old could read through that bullshit.
As I weed through my closet to find something to wear, I hear her sighs as she walks down the hallway. So sorry to have to inconvenience you with family time, Mom. But she doesn't need to worry. I'll be out of her hair in a matter of days.
#
My dad drives us conspicuously past Nashville's Academy of Creative Arts.
"Dad, you're being obvious again."
"This is the way to the Gulch," he says. "That's where we're headed."
He's brought me down here a few times since last spring to wet my appetite for the school. I have to admit, it's in a super cool part of Nashville. Right around the corner from the Gulch, which is this area with all these really trendy restaurants and bars.
My dad parks, and we walk through the streets of the Gulch. As we pass Two Old Hippies, Dad turns to me. "You want to go in and get some cowboy boots?"
"In there?" my mom asks. "They'll cost a fortune."
My dad waves her off.
"I don't need cowboy boots," I say. "I'm leaving Nashville."
"You'll want to represent your hometown out in California," he adds.
I am proud to call Nashville my hometown. I grew up here, the kid of two fiddle players. Does it get any more Nashville than that? I've missed it since we've been in Cliff Ridge. My mom's cousin needed help with her newborn a few years back when her boyfriend didn't stick around after he knocked her up. But she got married to a decent guy last year and moved to Birmingham, so there's really no need for us to be in Cliff Ridge anymore.
Honestly, I think my dad has secretly liked keeping my mom safe and sound there. She's a wanderer, and there aren't too many places to roam off to in Cliff Ridge.
Music spills out of the mysterious Sambuca Jazz club while people sip fancy cocktails on the patio of The Pub Nashville. I can't help the little bit of adrenaline that courses through me when my dad brings me down here. He knows this, which is why he's taking me here tonight.
We round the corner, and my dad stops in front of a place with a sign that reads THE GLASS VORTEX. He holds the door open.
"What's this?" I ask.
"It's a nightclub."
I rest a hand on a hip and look up at him. "Dad."
"It's all ages. Come on. We won't sit with you."
I don't know why he said that—he knows I've never been embarrassed of him. "I don't mind sitting with my parents." I make my way to a table.
An all-ages nightclub. How did I not know about this? The vibe is pretty cool in here. Some kids about my age pile up in red, oversize chairs and purple couches. A bar features a million different non-alcoholic drinks lined up behind the bartender, who might be a teenager.
"Why am I not working here?" I ask.
"Because you're moving to L.A.," my mom says.
I roll my eyes at her, and she gives me a "gotcha" look.
A waitress approaches and passes out beverage napkins to us. "Welcome to The Glass Vortex. Have you been here before?"
"First time," my dad says.
"You've come on a good night. We're showcasing some students from right around the corner at Nashville's Academy of Creative Arts."
I frown at my dad, the whole night making sense now.
"When does the show start?" Dad asks.
The waitress glances at a guy on stage with a laptop computer. "Looks like Miles is getting set up now."
"What's he going to do with a laptop," I ask, "play us a YouTube video?"
She grins. "I'll let him show you. What can I get you to drink?"
My dad orders three Cokes.
"Just bring one for me," I say. "They're leaving."
She nods and takes off.
"Dad, this is insulting. I didn't get in."
He wags a finger at me. "I still have two days."
I do a shooing motion. "Go, both of you."
My dad looks around the place. "Are you sure you'll be okay here alone?"
I eye him. "I'm eighteen in two days. Time to cut the cord."
He nods. "We'll be at Saint Añejo just a few doors down. Text me when you're ready to go, and we'll come back here to you, okay?" He points a finger at me. "Don't walk out that door, do you hear me?"
"Yes sir." I lean in to let him kiss me on the top of the head. He does so, and then they take off.
I turn my attention to the guy with the laptop. If this guy's the actual artist, it's like he's trying to hide it. Could he not have made an effort with his outfit? He's got on a plain white T-shirt, and the cut of his jeans died somewhere around 2008. I don't even understand his shoes. Boat shoes, maybe, like the kind you see old men wearing. He sports nerd glasses with shaggy hair that's all down in his face. This guy is a before if I've ever seen one.
He gives a thumbs-up, and the lights dim. He messes with his laptop like he's working on homework or checking his social media. I keep waiting for this guy to leave and the actual artist to take the stage. But the music starts, and he stays put, so I'm guessing this is his show.
Electronic dance music fills the room. Pretty cool, I guess. My shoulders move all on their own, itching to dance.
A few girls get up and do just that. They twirl each other around and giggle as they groove, and a small portion of me longs to be a part of their circle. But my own insecurities eat at me. Why is it so easy to talk to guys, but the thought of approaching my own kind cripples me?
What the hell. I'm getting ready to head to L.A. where I don't know a single soul. I might as well brush up on my people skills.
I hit the floor and dance near the girls but not necessarily with them. I pass them a welcoming smile when I make eye contact. One of them seems to recognize me, and I control my grin. About damn time. It's been a while since I've been noticed. Everyone in Cliff Ridge knows I went on the show and seems to be getting over my fame—which illustrates my need to get to L.A. pronto. I spent the summer with Chloe in Florida and constantly got recognized at my karaoke deejay gig. But since I've been back in Cliff Ridge, it's been crickets.
The girl with long, straight, brownish hair taps my shoulder, and I turn to face her. "You're Jenna Quigley, right?" I shrug and nod, all casual. She turns to her friends and giggles, and then turns back to me. "We totally voted for you."
I smile. "Thanks. I really appreciate that."
"You should sing something." She nods at the stage.
I shake my head. "That guy's doing his thing."
"No, he wants you to. It's part of what he does here. You can tell him a song you want to sing, or if you don't name one, he'll move the mix to something he thinks fits your personality."
I notice for the first time there's a microphone set up center stage. "Seriously?" I ask her.
"Yeah, totally." She nudges her friend. "Greta, go do your thing."
Her friend marches up to the stage. She types something into her phone and holds it up to the guy. He glances at it and then goes back to work on his laptop. She takes the mic as the music transitions smoothly into a Rihanna song—not the real version, but one of the karaoke versions with the vocal pulled way down.
This is an interesting concept, and I'm perturbed as hell I didn't think of it first. It's cooler than karaoke. No lyric screen to cheat off of. You have to know your stuff to participate in this jam. Nicely done, nerdorama.
Greta isn't bad. She's no Rihanna, but she's holding her own for karaoke without a cheat sheet. She finishes her song and giggles her way back toward us.
Her friends compliment her, and then she meets my gaze with hopeful eyes.
"You sounded great," I say.
She covers her heart with both hands. "Really?"
I nod with a serious expression for emphasis. "Totally."
The Keke Palmer lookalike nods at the stage. "Go do a song."
Looks like fun, so I shrug and head that way. I type the name of a song into my phone and walk over to the guy. Just like he did with the other girl, he looks only at my phone and then goes back to work. Sure enough, as I make my way to the mic, he's transitioning his techno crap to my Ariana Grande song.
After the first verse, I pull the mic from the stand and move around the stage. Music was made to be felt and expressed, not to be sung stiff-armed behind a mic stand. The people scattered around the sofas and the bar tables give me their attention, which encourages me to give my performance a little more oomph.
I hit a high note and the music changes keys. I jerk my head toward the laptop guy, and he's stifling a grin. I go with it, because I'm a professional. But the words are meshing with the music, and before I know what's happening, he's transitioned me into some old song…a Spice Girls song.
Oh no he did not. It's "Wannabe."
Click HERE to find at your favorite retailer.