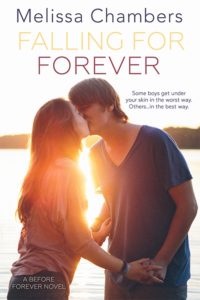 Some boys get under your skin in the worst way. Others…in the best way.
The second Jenna Quigley turns eighteen, she's headed to L.A. to extend the timer on her fifteen minutes of fame. Too bad her dad made her promise to graduate high school first. Silver lining? Her new school has a serious talent competition with a $25,000 cash prize, which would go a long way in L.A. Jenna's got plenty of talent—she didn't almost win America's Newest Sensation for nothing. But it'll take everything she's got to bring down the music nerd with a stick up his butt…no matter how cute he is in those glasses.
Miles Cleveland needs to win that talent contest. When some hot girl stole his audition spot on America's Newest Sensation, his chance to study music flounced off to New York with her. Now, not only can he win enough money to pay for his education, he can get revenge on that very same girl. He can't start to question his plan, though…no matter how deep Jenna buries into his heart.
Click HERE to find at your favorite retailer.
5 stars: "I'm in love with this series. Another 5-star worthy book! You can read this story as a standalone. However, this author's writing style is so addictive you won't want to miss The Summer Before Forever." -Danielle Duncan, Chapters Through Life
4 stars: "I loved that we got little snippets of Chloe and Landon throughout this book. I hope that Chambers will continue on with this series. I would love to catch up with Jenna and Miles six months or a year into the future to see how they're doing." -Sara Newhouse, Bibliophagist
5 stars: "Wicked book hangover!!! I read this in ONE night. I couldn't put it down and totally ignored everything else I had to do so I could finish the book. Melissa Chambers outdid herself with this story." -Victoria Bunce, Educator
4 stars: "I also loved the parent elements on both Jenna and Miles side. The impact on them made the story even more complicated. I can't wait to read the first book in this series. I really hope we see these characters again." -Laura Mauro, Bookish Things and More
5 stars: "To be honest, I wasn't sure I'd like Jenna after reading her in Chloe's book, but I was pleasantly surprised, finding her a solid character. Miles had that brooding, swoon-worthy leading man vibe that has girls of all ages falling hard. Together, they created a lovely read, but the side characters added a whole new dimension." -Erica Chilson, Wicked Reads
4 stars: "I found this book to be full of love, hope, friendships, ups and downs. Chambers creates a world that is easy to get lost in and after reading her book you will feel as if you are friends with the characters." -P. Loveday, Lovely Loveday Blog