I'm so excited to host a stop on the audio review tour for Greg Howard's Blood Divine!

Click HERE to watch the book trailer!
Author: Greg Howard
Narrator: Gary Furlong
Length: 9 hours 6 minutes
Publisher: Anakim Press
Released: Aug. 1, 2017
Genre: Paranormal


Cooper Causey spent a lifetime eluding the demons of his youth and suppressing the destructive power inside him. But a disconcerting voicemail lures Cooper back home to the coast of South Carolina and to Warfield, the deserted plantation where his darkness first awakened. While searching for his missing grandmother, Cooper uncovers the truth about his ancestry and becomes a pawn in an ancient war between two supernatural races. In order to protect the only man he's ever loved, Cooper must embrace the dark power threatening to consume him, and choose sides in a deadly war between the righteous and the fallen.






Review of Book:
Blood Divine is a fantastically creepy ghost story that kept me up all night and peeking around every corner! The author takes such care to set the reader firmly in the story with lush descriptions of this old Southern town and rich characterization of these lovable and sometimes kooky characters. While I rooted for Cooper, Randy, and Betsy, I squirmed and giggled over characters like the eccentric Eunice and Eudora. I'd love to read a whole book on just them!
Howard took me on a thrill ride, creeping me out and scaring the daylights out of me while making me sigh over the love story between Cooper and Randy. The action never stopped, and the pace kept me turning the page. Can't wait to read more from this author. Five Stars!
Review of Narration:
I read Blood Divine first, so for me, this audio version was a way to hear these characters I'd grown to love burst alive. There were a lot of unique accents in this book, and I thought the narrator took great care with them. If you're an audiobook freak like I am, you have your cringes and ticks that set you off while listening. My biggest pet peeve is a male narrator raising his voice to sound like a female *shivers up spine*, so I'm very pleased to report that this narrator took no part in that. His narration of Betsy, a strong Anakim (a vampire-like creature), was spot on, and he took care to not overdo the Southern accents on any of these ancient characters. As a Southerner myself, this is particularly appreciated! My favorite was the accent of a character, who as written, had a mishmash of dialect. Hats off to Gary Furlong for nailing that!
Just in time for Halloween, this audiobook will creep you out in the best possible way! Five Stars!
I wish I had this fabulous Phipps Family Tree when I was reading and listening!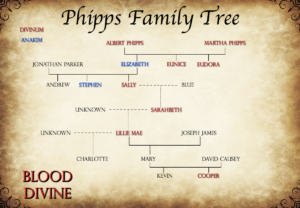 Greg Howard grew up near the coast of South Carolina, or as he fondly refers to it, "the armpit of the American South." His hometown of Georgetown, South Carolina is known as the "Ghost Capital of the South," (seriously…there's a sign), and was always a great source of material for his overactive imagination.
Raised in a staunchly religious home, Greg escaped into the arts: singing, playing piano, acting, writing songs, and making up stories. After running away to the bright lights and big city of Nashville, Tennessee with stars in his eyes and dreams of being the Dianne Warren of Music City, he took a job peddling CDs and has been a cog in the music business machine ever since.
Now an adult with a brain, Greg finds the South Carolina coast to be a perfectly magical place where he vacations yearly. Currently, Greg resides in Nashville, TN with his husband, Steve, and their three rescued fur babies. Molly, Toby, and Riley.
Greg's debut adult paranormal novel, BLOOD DIVINE, was released by Wilde City Press in September 2016. Simon & Schuster Books for Young Readers acquired Greg's debut young adult novel, SOCIAL INTERCOURSE, which will be released in Summer 2018.

Gary Furlong grew up in Wexford, Ireland. Throughout his life he has worn many a hat: He has worked as a teacher in Niigata, Japan; a puppeteer in Prague; an improv artist in Memphis, Tennessee; and as a singer and actor all over Ireland. He started narrating audiobooks in late 2015 and hasn't looked back.
Gary made his acting debut in the musical Godspell as a student. Since then he has pursued acting both on the amateur and professional circuits. Notable roles include Tom Collins in Bare Cheek's production of Rent in 2010.
Over the course of his five years in Japan, he was an actor, director, and audio producer. It was during this time that he discovered his interest in audiobooks and voice-over.
He now works full-time as an audiobook narrator and voice actor from his home in Ireland.

Sep. 17th:
Sep. 18th:
Sep. 19th:
Melissa Chambers, Crushworthy Contemporary Romance
Sep. 20th:
Sep. 21st:
Sep. 22nd:
Sep. 23rd: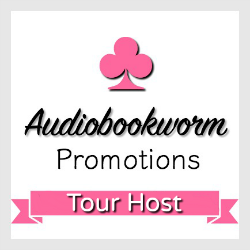 ➜Sign up as a host here