I can't believe it's the last day of summer! It's been such a fantastic one! I took my kiddo to Disney World for the first time, spent a weekend in homey downtown Gatlinburg, and released my first YA Contemporary novel, The Summer Before Forever!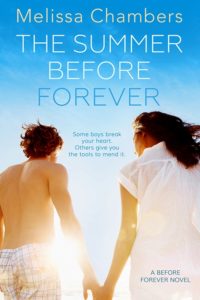 Chloe Stone's life is a hot mess. Determined to stop being so freaking skittish, she packs up her quasi-famous best friend and heads to Florida. The goal? Complete the summer bucket list to end all bucket lists. The problem? Her hot soon-to-be stepbrother, Landon Jacobs.
Landon's mom will throttle him if he even looks at his future stepsister the wrong way. Problem is, Chloe is everything he didn't know he wanted, and that's…inconvenient. Watching her tear it up on a karaoke stage, stand up to his asshole friend, and rock her first string bikini destroys his sanity.
But there's more than their future family on the line. Landon is hiding something—something he knows will change how she feels about him—and she's hiding something from him, too. And when the secrets come out, there's a good chance neither will look at the other the same way again…
With the release of the book, the past month has been a fantastical whirlwind of awesome! I've got so much fun news to share, so I've decided to put together my first newsletter! In order to build my list, I'm hosting a giveaway for a $10 Amazon gift card for anyone who subscribes to my newsletter. If you are already subscribed, no worries, you will still be entered into the giveaway. I'll choose and announce a winner on Friday, September 30th.
So what are you waiting for! Subscribe now here!