Welcome to day three of the five-day countdown to the release of 
DOWN FOR HER on Tuesday, March 23rd!
Today's feature is a peak at all three covers in the series!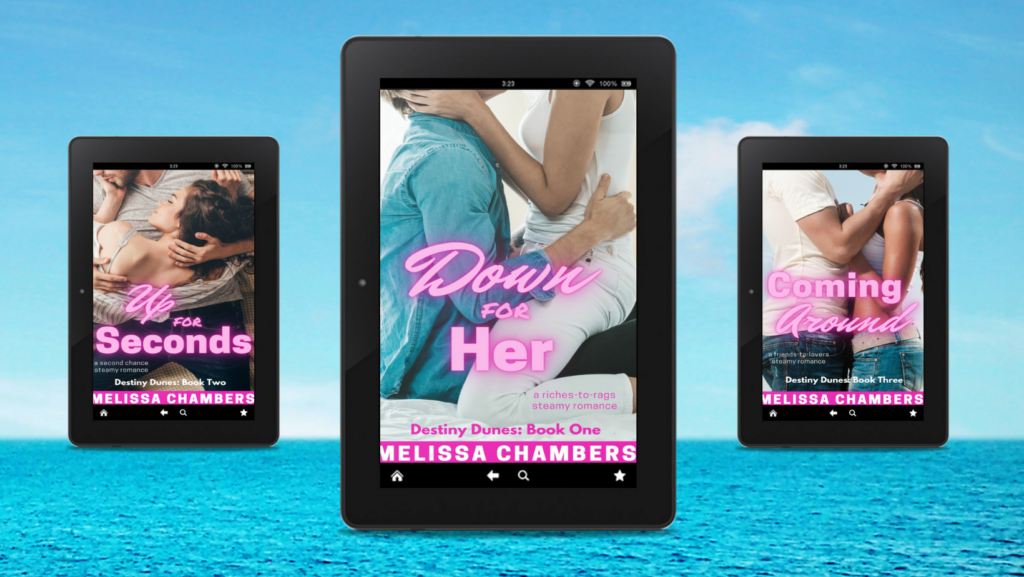 You'll start with Kylie and Brett in Down for Her, a Riches-to-Rags romance. In this first book, you'll meet Jack and Tori, who've been together before and can't shake one another. In book two, Up for Seconds, you'll see Jack try to win Tori back. You'll meet Bailey in both books, who is a self-proclaimed hot mess. You'll watch her get her happily ever after in Coming Around, which is a friends-to-lovers/fake relationship story with a bit of a love triangle.
All three books are so near and dear to my heart! I can't wait to launch them out into the world! And the best part…they're all coming soon and up for preorder now!
Down for Her – 3/23/21
Up for Seconds – 4/27/21
Coming Around – 5/25/21
About Down for Her…
From champagne to salt water…
Kylie McBride leaves her two-timing ex-fiancé along with a life of luxury for independence and a little self-respect…well, if you can call a job as pool girl respectful. The resort offers employee residence, which she desperately needs. But a housing screw-up has her thrown together with the hunky but helpful Brett. She just needs to keep the Florida panhandle's biggest player out of her heart.
Welcome to Destiny Dunes, where the only thing hotter than the Florida sun is the romance between this resort's employees. Each book in this steamy series focuses on your favorite romance tropes. Once you enter the gates of Destiny Dunes, you'll never want to leave!
ADD TO YOUR GOODREADS HERE.
PREORDER AT YOUR FAVORITE RETAILER HERE.