We're SO close! Just one more day till DOWN FOR HER will have its book birthday! *sniff sniff*
Hold tight for one more day, because tomorrow, to celebrate in style, I'll be sharing a Rafflecopter link to a $25 Amazon Gift Card sweepstakes!
Your final trinket…another teaser graphic!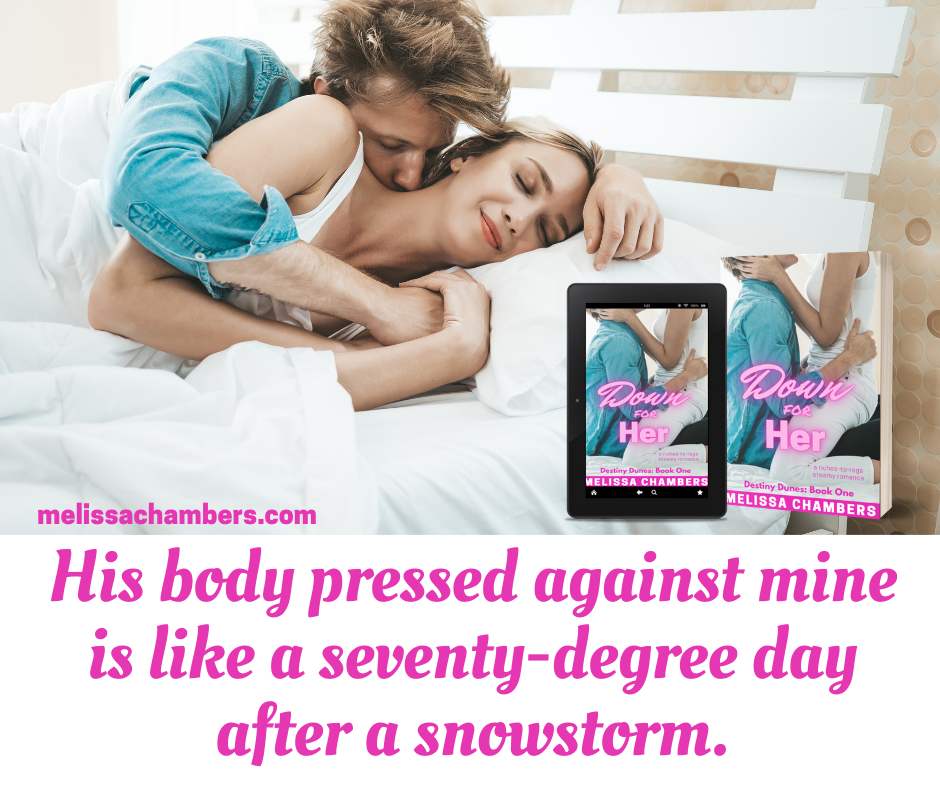 Thank you for playing along with the five day countdown! It's been a blast! And don't forget to check out the book! Happy reading!
From champagne to salt water…
Kylie:
Walking into my employee housing unit at Destiny Dunes resort for the first time, the last thing I expect to see is a hot guy…and definitely not a dripping wet naked one.
Turns out the unit was double-booked. With only twenty bucks to my name and no credit cards, I'm screwed.
But with Brett, Florida's biggest playboy, offering me his bed for the weekend, I may not have to go crawling back to my two-timing ex or my controlling dad. My real challenge will be not letting this hunk who helps kids for a living steal my heart.
Brett:
Of all the housing units she could have walked into…
I don't have the time or capacity to deal with this damsel in distress. Between helping my mom take care of my grandma and keeping an eye on my brother, all I've got time for are quick, emotionless hookups.
So why am I letting this woman pull me in?
I've been down that road before and it bit me in the ass. I've got to stay strong…make sure she understands my heart is off limits, otherwise, this thing between us is certain to detonate.
Welcome to Destiny Dunes, where the only thing hotter than the Florida sun is the romance between this resort's employees. Each book in this steamy series focuses on your favorite romance tropes. Once you enter the gates of Destiny Dunes, you'll never want to leave!
ADD TO YOUR GOODREADS HERE.
PREORDER AT YOUR FAVORITE RETAILER HERE.