My friend (soon to be Harlequin author) Victoria Austin and I meet up at least once a year at a conference to learn, but mostly to hang.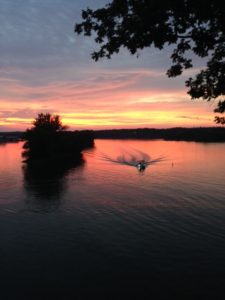 This year, we decided to take a brain break and just get together for a straight up writing retreat. We met in Cadiz, KY, which is a tiny little town in Southern Kentucky. It's home to Lake Barkley State Park, which is beautiful.
We spent Friday night talking NONSTOP. We don't talk a lot throughout the year, so when we get together, the floodgates open. We're both writing industry nerds to the max, so we get each other caught up on all the workshops we've done, the people we've met, the books we've read, and the progress we've made. We're both hoarse by the time the weekend is over.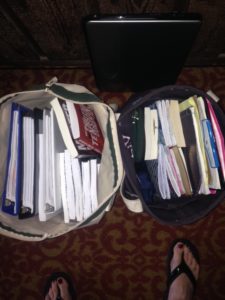 Every time we meet up, I show up with a cooler full of drinks and food (made Pad Thai noodles this time!), and my bags are packed with dark chocolate almonds, Chex Muddy Buddies, Cheez-Its, bagels, Kind bars, and anything else I can stuff in there. This is what Victoria packs (see photo to the left). She laid about eight craft books on my bed for me to "take a look at" and I hid under the bed with my dark chocolate almonds until she kindly removed them.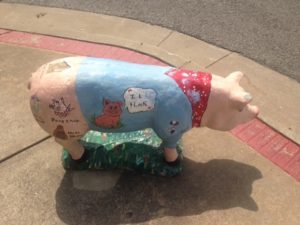 We spent Saturday morning walking around the lake and chatting, and then we headed into town. We went down to the business district of Cadiz which was so precious. All around the town, they had these little pig statues. The Cracker Barrel we ate at even had one out front. I bought a shirt at the cutest little gift shop called Broadbents, and I bought a necklace at an antique shop that was made out of an old silver fork. The artist had molded it into an elephant. I wear it like every day.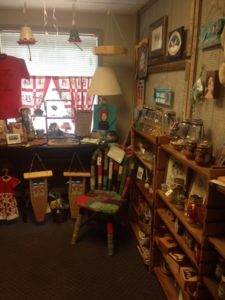 Much of the merchandise in these little shops is locally made and cute enough to make a road trip to check out. There are few things I love more than an adorable little country downtown.
But I've got to say, one of the coolest moments happened before the weekend even got underway. I arrived first and went to get ice for my cooler in the main building. I had been to this lodge with my family once before when I was in the eighth grade. My sister didn't come for some reason, so I brought a friend with me. She and I met these two boys who were from Lexington. We spent much of the weekend hanging out with those two boys at the pool and at the arcade in that main building where I went to get my ice. There were no romantic connections with these boys, but it was different, meeting boys who knew nothing about my awkward eighth grade year. They didn't know about the boys who tortured me on the bus every single day of that year, and they didn't see me like those kids who I'd been going to school with since kindergarten and knew all the ins and outs of my whole elementary and middle school history. Meeting these boys from another world was fresh and exciting and such an ego boost for a thirteen-year-old girl who desperately needed one that year.
When I walked into that arcade, those memories rushed back into my brain like lake water spraying off a jet ski. I stood there by myself grinning like a total idiot, having a moment with thirteen-year-old Melissa that I won't soon forget.
Best. Retreat Weekend. Ever.
🙂