Happy October!
October - that time of the year when yards fill with leaves, spooky creatures don front lawns and mantels, and we trade warm days for cool fall breezes...except it's freaking ninety degrees outside!
But I'm not letting that damper my Halloween spirit. This year I channeled my inner Joyce Byers from Stranger Things, sported a set of Christmas lights around my neck, and hit my annual neighborhood Halloween soiree.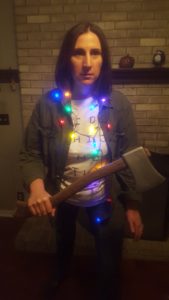 But with the big night of celebration still ahead, I've got to come up with another costume! Black cat? Morticia Addams? Or maybe...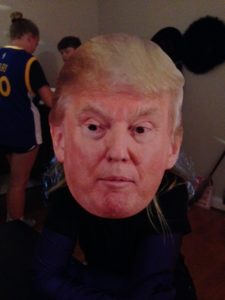 AAAAAHHHHH!!!!!
---
 This October, in addition to getting to stuff our faces with bowls full of chocolate, we get to do something even more exciting...vote! I L.O.V.E. to vote. I get an adrenaline rush as I stand in line, and my blood pressure spikes as the lady hands me back my license and voter's registration card and I am directed to the polling booth. I always take my sweet time in there, no matter how long the line is because I'm not messing that shiz up! After I have confirmed my ballot, grin stretched across my face, I strut out of that polling location like I just crossed the finish line of a marathon. So if you haven't voted yet, and you need a little rush of power, get to your voting location and make your voice heard!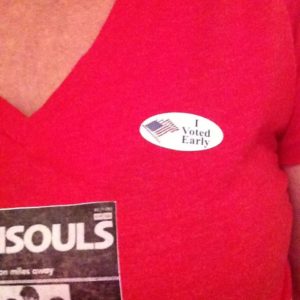 ---
Speaking of the election, I should probably not admit that I'm a bit of a politics junkie, so you can imagine I've been a little distracted this month. But next month, my writing will go into overdrive as I gather my squad, and we hit the ground running November 1st for NaNoWriMo!
Since I am currently in editing mode, rather than commit to a word count, I'm committing to TWO HOURS PER DAY.
If you are doing NaNo as well...
GOOD LUCK!
---
What I'm Reading:
She Runs Away is Book Two in Jessica Calla's Sheridan Hall series. In Book One, She Laughs In Pink, Ben got the short end of the love triangle. I can't wait to see him get his happily ever after now!
---
Speaking of books (see how I did that?), it makes me grin like an idiot to see The Summer Before Forever still holding onto the #1 spot in ebooks for Teen & YA Special Needs Fiction!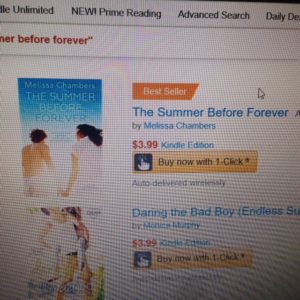 I'm so happy to see people connecting with Landon's struggle with dyscalculia, and also having them fall a little for Landon's and Chloe's love story.
---
In celebration of Halloween, I'm going to share with you three of my favorite spooky tunes.
The Witch by The Cult
Spooky by Classics IV
Living Dead Girl by Rob Zombie
 (Follow me on Spotify to keep up with the latest in Alt Rock)
---
 And finally, pick up your water bottles, sodas, or whatever you have at hand, and join me in toasting my little Sally "Bear" Chambers, who finally let us know this past week, after fifteen years, that it was time to say goodbye.
To Sally - The fiercest protector, the most welcoming hostess, and the most precious soul a family could call one of their own. You'll always be one of us. We'll love you forever.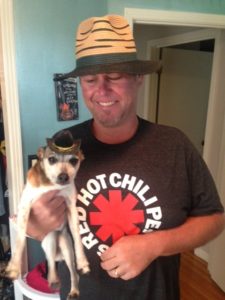 ---
 Thanks so much for reading! And be sure to have a
Happy Halloween!