Yesterday, I sent out my October/Halloween newsletter. If you aren't signed up, do that now here!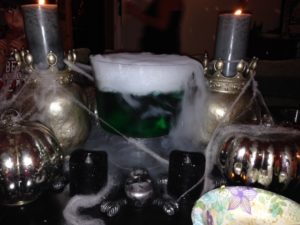 I already did a little Halloween partying Saturday night, but the great thing about Halloween falling on a weekday, is you get double parties! So I'm headed out again tonight, and I hope you are, too!
Whether you are hosting ghosts and goblins this evening or just getting into the Halloween spirit, you need a great playlist. Here's one with some classic favorites as well as some fresh new tunes to keep your Halloween spirit afloat.
Living Dead Girl by Rob Zombie
Lil' Devil by The Cult
Dead Man's Party by Oingo Boingo
Howl by Beware of Darkness
Spooky by Classics IV
Psycho Killer by The Talking Heads
Nightmares by Band of Skulls
People are Strange by The Doors
The Killing Moon by Echo & the Bunnymen
Ghost in My Head by Andrew Wyatt
The Witch by The Cult
Nightlight by Silversun Pickups
Cold Feet Killer by My Goodness
I Am a Nightmare by Brand New
Disko Killers by Lowline
Season of the Witch by Donovan
Devil on My Shoulder by Modoc
Spellbound by Siouxsie and the Banshees
Dragula by Rob Zombie
Murder by Numbers by The Police
Click here to access this playlist on Spotify.
HAPPY HALLOWEEN!