Once in ten blue moons, the stars aline and come together to produce one epic weekend. This past July 4th weekend was that for my family.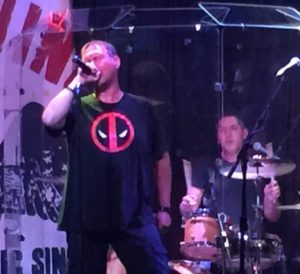 We started out on Friday night at my hubby's show. Lots of friends came out to see him, and it was an all-ages show for NotQuiteRight, so there were tons of kids there. My kiddo got to see his dad perform for the first time, which was super-cool to watch.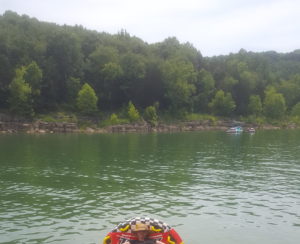 Saturday, we were invited to the lake with some fabulous friends who rented a double-decker pontoon boat with a slide. I hadn't been on the lake in over a decade. I floated on an inner tube, slid down the slide, and swam in the lake. We couldn't have ordered up a better day for it.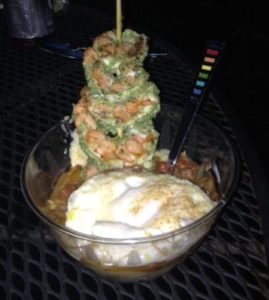 Sunday, we went to a birthday party at our sweet friends' house who cooked the most fabulous shrimp and grits with a fried egg on top. We ate birthday cake, and I discovered my new favorite drink: the Dark and Stormy, which is made with ginger beer. Fun facts: Ginger beer is nonalcoholic, has less than half the sugar as soda, and is fantastic. We finished off the evening at our good friends' house with a night swim in their pool where I did back dives off the diving board like I was back at the country club my family belonged to when we were kids.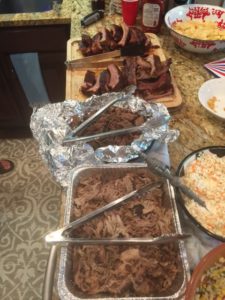 Monday, we finished the weekend with a pool party at the same friends' house who we went on the lake with. We ate ribs, beef brisket, pork bar-be-que, and hot dogs. As my friend's mom said, "It sucks to be a vegetarian here!" I am not, so it was quite wonderful for me!
We met new friends this weekend and cultivated relationships with old ones. We ate and drank like gluttons, laughed and relaxed, and overall had the time of our lives.
Last night, as hubby and I recounted our weekend, he said to me, "I think this is the most fun weekend we've had." I agreed. But the fact didn't escape either of us that we are fortunate beyond measure to have been afforded the luxury to indulge the way we did this weekend. We appreciate more than anything:
Our healthy bodies and that we are able physically to do all that we did this weekend.
The generosity of our precious friends.
The people who risk and have risked their lives and who have died to continue to keep our country safe and free.
Happy Fourth of July to everyone! Stay safe this summer, and keep lathering
on that sunscreen!